BTD5 is a tower defense game where the player has to pop all the
Bloons
before they reach the end. Once a certain amount of bloons reach the end, you lose the game. But this doesn't mean it actually is the end, by paying a certain amount of Ninja Kiwi coins, the player can continue.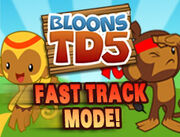 The game itself has no real story as to why the monkeys have to pop all Bloons before they reach the end.
The Player is required to buy and upgrade towers so that they can pop all the bloons before the end. There are a variety of tracks, game modes, towers, and upgrades for the player to choose from.
When the passes the starting levels, he/she is required to then pop certain types of bloons and different colored bloons.
Camoflage Bloons: Only Specific towers with a specific upgrade itself can target these bloons except if the Monkey Village has given Camo Detection. These are different from the camo bloon in Bloons Tower Defense 4, as this kind is a status, not a unique bloon. An M.O.A.B class bloon can not be camo.
Lead Bloons: Any Tower that shoots sharp fragments are useless against this bloon, unless in the range of a 2/3 Monkey Village. This bloon is not new to the series. Lead is not a status.
Regenerating Bloons: These bloons regenerate their layers over time, making the user have to remove these bloons quickly. There is a method called "Regen Farming" that can give cash, but is risky. An M.O.A.B. class bloon can not be regen.
M.O.A.B.: These bloons are tougher than the rest. They require a large amount of popping power before they get popped and even then, you will need to pop the bloons inside. These debuted in Bloons Tower Defense 3.
B.F.B.: These are harder to pop than M.O.A.B.s. They contain 4 M.O.A.B.s. These debuted in Bloons Tower Defense 4.
Z.O.M.G., these bloons are the hardest bloons implemented in the game. They are immune to some abilities and thus, they require tons of popping power.
More Information
Edit
For more info, see bloons.wikia.com/wiki/Bloons_Tower_Defense_5!